Stolen Fury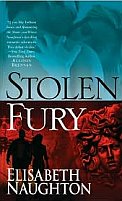 by Elizabeth Naughton

Passionate romance, twisting suspence and action-packed treasure hunt adventure
Publisher: Love Spell (January 2009)
Dr. Lisa Maxwell has encountered all kinds of scrapes and difficult situations in her fourteen years as an archeologist. Now on vacation in Jamaica, one cave threatens to get the better of her. Far worse than any expedition or any cave, is the sexy history professor Rafael Garcia, the professor from the University of Barcelona, man whose words on Greek mythology strike her to the core and whose body turns her thoughts in all directions. Dinner needs to a night of mindless sex and passion. The next morning Lisa awakens alone and an empty safe. After years of searching, the one found Fury in a set of three ancient Greek reliefs is gone in a flash. A quick investigation uncovers the true identity of the culprit --- Rafe Sullivan, the man who called himself Rafael! Rafe just messed with the wrong woman. Tracking him down, Lisa plans to take back her Fury and find the other two. Rafe has his own motivations but he knows Lisa has the key to finding the other two reliefs. On a race to beat the other yet needing each other, Rafe and Lisa's quest suddenly becomes even more dangerous when other treasure seekers enter the fray. Passion runs hot as the race for the Furies beings them closer and closer but the motivations and intricate web of alliances and jealousies threatens not only their growing love but their lives. Can two people with such different goals learn to trust one another in this deadly race?
In her debut work of romantic suspense
STOLEN FURY
, Elisabeth Naughton writes a fast-paced romantic adventure full of hot passion, exciting page-turning suspense with action and clever twists.
STOLEN FURY
puts an intelligent, spirited heroine together with a mischievous hot blooded rogue. The sparks fly! Danger threatens at every corner as these two race around the globe and delve into the secrets each keeps from the other. Each precisely measured successive plot revelation leads into an outer thrilling hunt for the mysterious Furies while each clue leads to an exploration of the darker corners of the heart.
STOLEN FURY
raises both the level of romance and suspense, rather than sacrificing one for the other, in a non-stop thrilling race to discover the archeological mystery. Add to that non-stop action, exotic treasures, powerful emotions, and hidden personal motivations and
STOLEN FURY
will capture the reader looking for adventure. The only thing more satisfying than the last pages is the discovery that
STOLEN FURY
is the first book in series.