Say You Love Me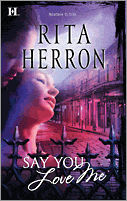 by Rita Herron

Secrets uncovered in New Orleans and the Black Bayou.

Publisher: HQN (June 2007)
Britta Berger, columnist for New Orleans' popular erotic magazine hears the secrets and fantasies of the city's populace. Beneath her public mask, Britta has dark secrets of her own, especially of one past terrifying night. Britta receives an anonymous note, "I know your secrets. And you know mine..." with details from a possible murder included, she contacts Detective Jean-Paul Dubois. As the details of ritualistic murders unfold, Jean-Paul realizes that Britta might be the key to solving the string of serial killings that begin just as Mardi Gras approaches. Can Britta and Jean-Paul overcome the dark secrets of their past in this race against time? Most importantly, can they trust one another enough to reveal those secrets before it is too late?

Rita Herron writes the landscape of her novels brilliantly. New Orleans and the Black Bayou are dark, breathing entities that infuse the novel and the characters. The landscape itself is a character. Herron captures the dark underside of the South that hides and lurks in the landscape and in the soul. Rita Herron has a style and a way of writing suspense that keeps the clues and possibilities open. Even if the reader knows the villain --- we hear his voice --- which one of these twisted characters has gone way over the edge? It could be any of them. The suspense encourages a fast-paced excited read while the landscape and the romance encourages the reader to savor every word. The romance of the novel builds as the hero and heroine fight their own personal demons in the hunt. The reader feels the heroine's struggle with the perfect amount of psychological realism poetically portrayed to feel her depth. Together with the hero, can two wounded souls heal the darkness that emerges from the interior and physical landscapes that surround them?

Rita Herron is one of my favorite authors. She writes about dark, twisted people and their secrets. On the flipside, she writes about the subtle light, the emerging courage of her heroines, and the unexpected but perfect heroes she gives them. I particularly enjoy novels that expose fanaticism, extremism and what is over the edge. I love reading about the dark side of religion and politics and family and just about all the things that build a civilized society. While I value all those, I also like stories about how values are corrupted.

Buy a copy of this book for yourself and a friend. Once I finished this book, I was just dying to find other readers and ask them what they thought of this or that and point out all the places I felt this romantic suspense was unique and just downright awesome.


Reviewed by Merrimon, Merrimon Book Reviews