Ghost At Work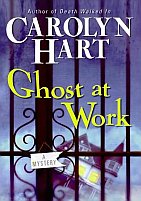 by Carolyn Hart

Quirky, humorous, good-natured ghost sleuth in fantastic
start to a new mystery series!
Bailey Ruth Raeburn died along with her husband Bobby Mac when their caravan plunged into the Gulf of Mexico. Now Wiggins and the Department of Good Intentions sends her back to her former home in Adelaide, Oklahoma to lend a helping hand to Kathleen Abbott, the rector's wife. As soon as she arrives, the dead body of Daryl Murdoch at the rectory complicates her task. Although Wiggins has placed the probationary Bailey Ruth under orders of the Precepts For Earthly Visitation, a list of rules to limit the living's awareness of the presence of departed spirits, every action she takes to protect scared Kathleen seems to break the rules. To make matters worse, Kathleen herself seems to destroy the one piece of evidence that might exonerate her! Bailey Ruth's task is threefold: to discover the murderer's identity among a list of all those who might want him dead, to protect Kathleen from herself while clearing her of suspicion, and to follow the Precepts so that the town's residents do not discover the ghost at work.
Celebrated in the mystery world for her Henrie O and Death on Demand mysteries, Carolyn Hart's
GHOST AT WORK
is the first in a new Bailey Ruth series starring a spunky, good natured yet ever so impulsive ghost. When a job needs doing, Bailey Ruth steps up. Her often quirky solutions to the dilemmas before her, make for one humorous moment after another. Told in first person narrative, Bailey Ruth's commentary on her actions is just as humorous as the actions themselves. As Bailey Ruth tries to keep one precept, she ends up breaking several others, confounding the police and the residents with objects that seem to move on their own and disappearing items. Bailey Ruth is a ghost who sees straight to the good hearts of those around her. As she narrows the trail to the murderer, she also has a knack for touching the lives of those around her, transforming missteps into opportunities.
With its vivid, lovable characters and unusual sleuth,
GHOST AT WORK
is a mystery that pulls the reader into the book and the town of Adelaide. Bailey Ruth's description of heaven as opposed to the world of the living has a wonderful mixture of warmth, generosity and humor. Bailey Ruth's humorous portrayal of the rector's life, the Altar Guild and the ECW (Episcopal Church Women) will put a smile on the face of Episcopalians, indeed with readers of many denominations, as Carolyn Hart's gentle wit strikes a chord. Bailey Ruth's interactions with Kathleen and her daughter warm the heart while their outrageous good-intentioned antics made this reader laugh aloud. The carefully plotted clues to the mystery of Daryl Murdoch's death provide several delightful twists and turns but what makes this mystery such a fabulous read is that, though not every suspect is indeed the murderer, no presentation of a suspect's character is superfluous. Each suspect adds a layer of richness to the portrait of the town and dynamics between the residents. In the ingenious creation of Bailey Ruth, a ghost chocked full of personality, Carolyn Hart's cozy mystery
GHOST AT WORK
will appeal to traditional mystery lovers as well as to those wanting something a little bit different to enliven their mystery reading.
GHOST AT WORK
is a smashing introduction to Bailey Ruth and hopefully a many volumed mystery series!
Publisher:
William Morrow (October 2008)